AWS-Powered AI/ML Services & Expertise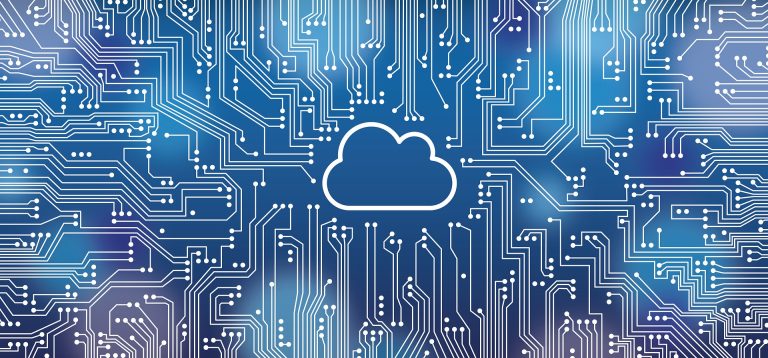 Invest in AWS AI/ML services to add significant intelligence to your data-driven product. Create innovative business models via AWS automation, computer vision, data extraction, intelligent analytics, language AI, natural language processing, speech recognition, and so on.
Explore the AWS machine learning service with Neurons Lab as an AWS-certified partner that helps with advancing and scaling your apps, automating and speeding up processes, enhancing customer experiences, forecasting outcomes, and identifying patterns.
Benefits of cloud machine learning services
How can AWS and AI/ML technology empower you?
Get an idea of the essential benefits your business will receive once you utilize cloud machine learning services.
     1. Streamline business operations
AWS and cloud computing for healthcare offers the best storage and systems for HCLS companies and medical business owners to host their architectures in a stable, scalable, and secure way. AWS technology complies with demanding data storage, protection, and privacy standards and eliminates the risks of data theft and damage.
     2. Resolve complex challenges
The combination of AI/ML technology and AWS provides dozens of advantages for a business, which allows the collection, analysis, and report of information for maximized value for your company. In addition, these systems enable the resolution of multi-dimensional issues that need a unique approach and drive innovation by enlarging existing assets.  
     3. Improve customer experience & services
Once using cloud machine learning services, you can process massive volumes of data and get more accurate and complete customer information faster than your competitors. As a result, you will know exactly how to invest in your service and offer personalized experiences for enhanced customer engagement and loyalty.
     4. Automate & predict for more reliability
By employing AWS AI/ML services, you can remove the redundancy in operations while allocating manual tasks to AI-based programs. Moreover, AI/ML-enabled software extracts, analyzes, and provides meaningful insights from your data. As a result, you can improve internal business processes with automated monitoring to find bottlenecks and assess services for superior quality and safety.
Incorporating AI/ML and AWS cloud computing will streamline agile software development. This ensures the efficiency of any software implementation and releases with minimized errors and at a faster speed, including AI/ML projects. As a result, you can improve, launch new projects far quicker, and adapt to the company's and customers' needs.
     6. Cost savings and optimization
Using AWS AI/ML services is the simplest way to innovate, decrease natural human errors, and considerably save your budget. Cloud AWS solutions require only the necessary storage so that you can eliminate traditional infrastructure costs. Without physical data centers, project costs are reduced significantly and cloud solutions allow for the simplification of AI development and growth.
AWS Machine Learning Service Process
At Neurons Lab, we utilize the latest cloud and AI/ML development standards and practices to provide you with the most optimal and efficient project implementation process.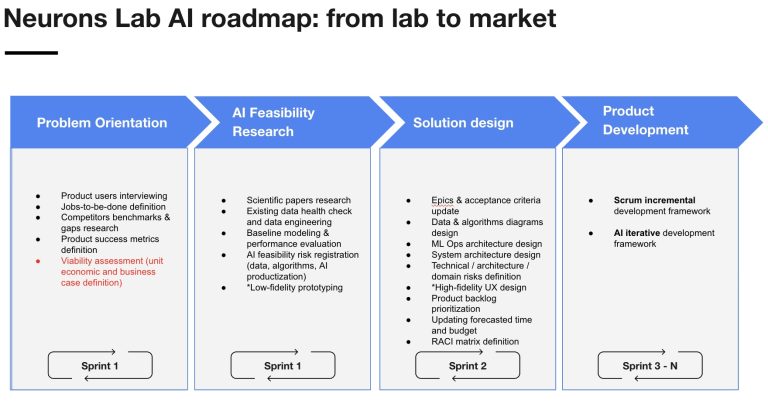 Adopting AWS AI/ML services starts with problem identification and orientation. Then, we interview all the interested parties and stakeholders and identify the project's tech and business requirements. In addition, we check out competitors and benchmarks and finalize product success criteria.
    2. AI Feasibility Research
As the next step, we evaluate and educate our clients on the best approach to endeavor their projects. We review and research scientific papers, check data health and correspondence, and outline potential risks. As a result, we model a project implementation baseline and define performance evaluation metrics.
    3. AWS AI solution design
In the next phase, our AWS-certified & AI/ML company develops data models and algorithms, followed by MLOps architecture design by setting up the necessary infrastructure for the project delivery and deployment. Finally, as we follow agile development practices, we create a product backlog listing all the required tasks with an updated timeline and budget.
    4. AWS AI/ML solution development
We offer a complex and fundamental approach to innovate your product with AI. The provided solutions are designed at the intersection of unique AI/ML expertise, science (physics, biology, chemistry), business knowledge in line with a proprietary product delivery framework. We use the scrum incremental and AI iterative development frameworks.
Neurons Lab is a globally-distributed company that combines AI/ML engineering, advanced science, and business expertise to deliver AWS AI/ML services. We elaborate on the needs of every client, whether they are a startup or a large enterprise, to achieve specific business goals on time and within the stated budget.
"Neurons Lab has actually been really terrific and helpful, so we are excited to move forward with them."
Matt Dallmann, President @Creative Practice Solutions
Medical Transcription & Billing System
Client: Creative Practice Solutions, Inc.
Industry: Healthcare
OS: iOS, iPadOS, macOS
Services provided: DevOps, Migration, Mobile, Security, Machine Learning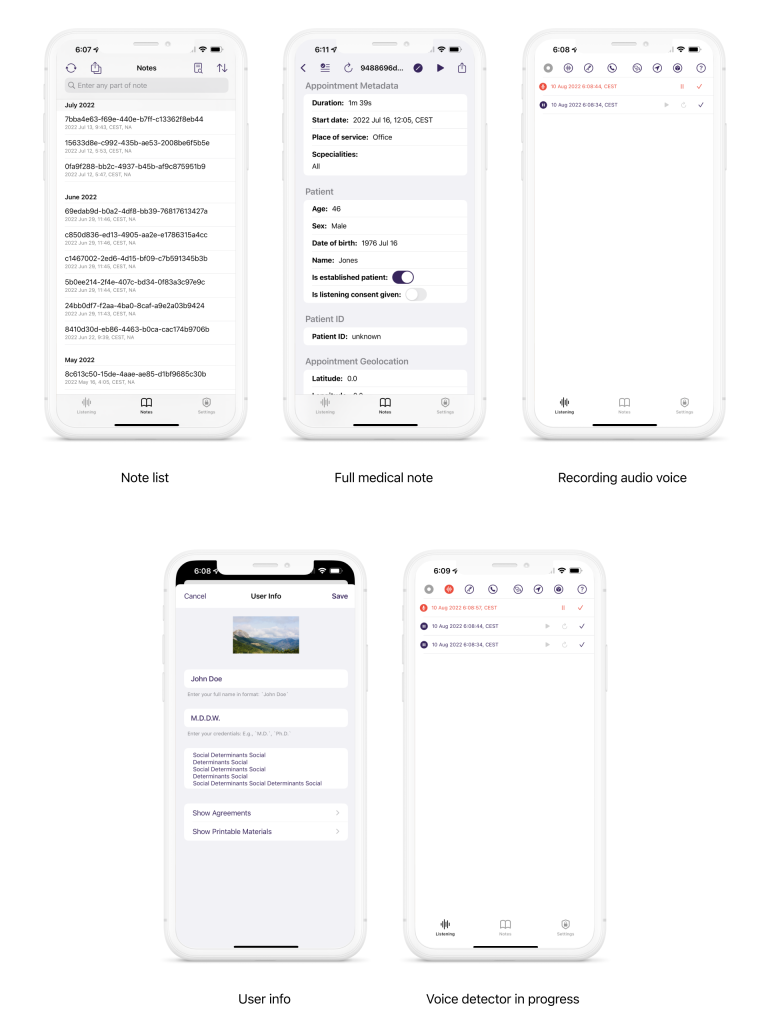 Our team helped to release the SmartNoteMD project which is HIPAA-compliant and has all the necessary functionality. Now, the system allows medical workers to create automatic medical notes with correct billing codes in real time for secure data operations, lower administrative expenses, and streamlined doctor visits. The program uses Amazon Transcribe, Transcribe Medical, and Translate for medical note creation. We also developed a serverless solution with a microservices architecture based on AWS managed services like Amazon API Gateway and AWS Lambda.
"This is great to see that we can implement our method for these businesses. So, we can solve this problem. We can even make a massage more efficient for the people who use the app. For example, you go to the masseur, take a scan before, and based on the analysis, the message will be adapted to your problems".
CEO of iPlena, osteopath, physiotherapist, and entrepreneur, Alexander Srokovskyi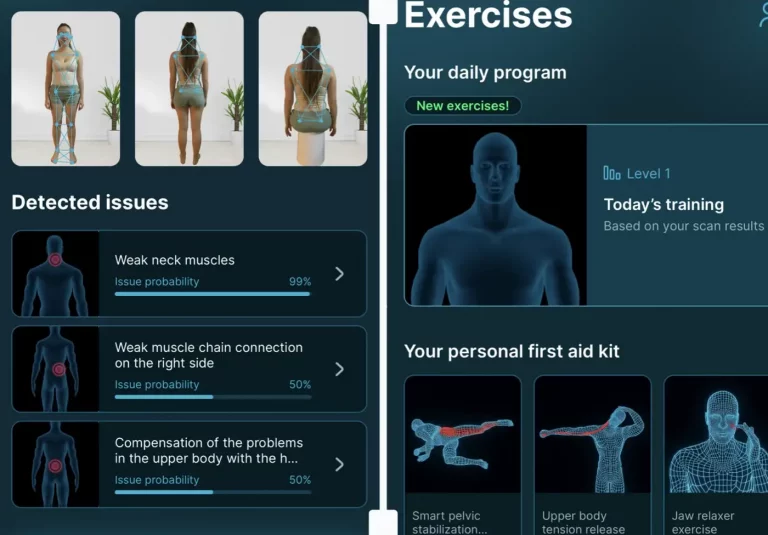 By combining medical expertise, evidence-based technology, and AI/ML expertise, we created an advanced anomaly detection system and applied pose estimation and face recognition models. The AI-based system helps handle more patient appointments and supports physiotherapists in making accurate diagnoses while providing an identical high-quality service without stress and at a lower cost. In addition, our team developed a sustainable cloud-based project architecture using Amazon API Gateway, AWS Lambda, AWS Fargate, Amazon Elastic Container Service (Amazon ECS), Amazon SageMaker, etc.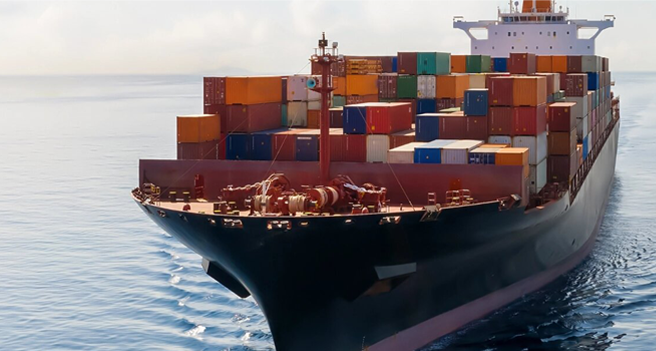 How about working with a leading AWS AI/ML team?
Contact our team for more detailed assistance in adopting AWS services, the cloud migration journey, and modern AI/ML practices to innovate and boost your business. We can help boost your business performance exponentially and adapt your services to the latest user experience standards.
Our AWS Machine Learning Services
Our team provides a range of AWS-enabling services and ready-made innovative solutions for advancing your apps and business operations for specific use cases. These services account for modernization, personalization, security, user engagement and improvement, and more.
As an AWS Certified Partner, Neurons Lab demonstrates technical expertise supported by proven client success across industries, use cases, and workloads. AWS ML engineering allows your business to operate far quickly, efficiently, securely, at a scale, and at a lower cost through task automation, modeling behavior, computer vision, natural language processing, speech recognition, etc.
Machine learning operations (or MLOps) use machine learning models under severe quality control by our engineering & operations teams. MLOps helps machine learning models achieve the greater reliability, productivity, connectivity, and monitorability that wide-scale production requires at a lower expense. At the same time, we can help leverage data analytics for enhanced decision making and innovative user experiences.
This AI service is devoted to custom ML model creation, enabling computers and computer-controlled robots to perform real tasks. In addition, we assist our clients with developing mind-blowing systems designed to drive autonomous vehicles, intelligent systems to assist the company's clients, and more. As a result, your business will receive a competitive advantage and adapt to the market accordingly with high accuracy.
These services include the creation of chatbots, virtual assistants, and other solutions that involve voice or text communication. The designed artificial brain enables machines to understand, process, and respond to human language. Solutions with conversational AI transform the communication process and can place your business on the cutting edge within the industry. You can expect to lower customer service costs, increase satisfaction, and solve clients' most complex issues.
If you plan to use AWS, AI/ML, or both, you can reach out to us for expert advice. Our team will provide a complex analysis of your existing infrastructure and elaborate and educate on steps for improvement with AI/ML and cloud migration. We will be responsible for your project and thus conduct feasibility analysis with scientific and tech research and follow set metrics for its successful deployment. In addition, we can orient the project timeline and budget.
AWS ML Tools & Technical Expertise
Our team works with cutting-edge open-source AWS tools and technologies that support AI/ML project implementation and deployment. These technologies address standard use cases to gain the best innovation to empower your business.
Amazon SageMaker: A cloud machine-learning platform that helps software engineers and developers to create, train, and deploy machine-learning models in the cloud.
AWS-enabled Text Solutions
Amazon Comprehend: Advanced text analytics that uses natural language processing to get insights & correlations from unstructured texts
Amazon Translate: Real-time translation that helps expand your action radius via cost-effective and translation to reach audiences in multiple languages
Amazon Polly: Text to speech allows turning text into real-life speech, which gives voice to your applications
Amazon Transcribe: Transcription that helps add high-quality speech-to-text capabilities to your workflows and web and mobile apps
Video and Image Analytics
Amazon Textract: Document analysis that extracts data and text from millions of documents automatically in just a few hours, which reduces manual efforts
Amazon Rekognition: Image and video analysis helps to add image and video analysis to the apps to catalog assets, automate media flows, and extract meaning
Amazon Lex: ChatBots allow easily build conversational agents to enhance customer service and raise the efficiency of your contact center
Amazon Kendra: Enterprise search that adds natural language search capabilities to your software so that users can find the information they need more easily
Amazon Personalize: Personalized recommendations offer personalized experiences for your customers with the help of machine learning technology
Amazon Forecast: Demand forecasting allows building accurate forecasting models on the same machine learning forecasting technology via Amazon
Security and Compliance Solutions
Amazon Fraud Detector: Fraud prevention identifies potential  potentially fraudful online activities based on the Amazon-based technology
Amazon Redshift: A data warehouse that is an enterprise-class relational database query and management system 
Amazon CloudSearch: A search-managed service in the AWS Cloud that enables setting up, managing, and scaling a search solution for the ML workload in a simple and cost-effective way
Why Do Clients Choose Us?
So what are the reasons for considering Neurons Labs as your artificial intelligence solutions provider?

We are distinctive from other generic AI teams for our uniquely-designed approach. This approach combines solid expertise in AI/ML, advanced science, and business knowledge. Moreover, we use proprietary delivery frameworks to help generate new solutions and boost performance across different industries, especially HealthTech, EnergyTech, Life Sciences, Financial Service, Retail, and Customer Intelligence.
We can support our words with the following facts about Neurons Lab:
Established in 2019
AWS Certified Partner
Globally distributed AI R&D company of <100 niche AI/ML scientists & consultants
50+ completed AI projects with unique expertise in fundamental sciences, full-stack AI/ML engineering, product design
Our team collects the brightest minds of Ph.D. data scientists, AI/ML experts, and engineers
Our employees have 15+ years of experience in AI/ML
100% rating & 5-star rating on Clutch/Manifest
Possibility to hire team members with part-time workload 0.25 – 1 FTEs
Cancellation flexibility – possibility to cancel the project after just two weeks' notice
Proprietary delivery framework with accelerators that helps us develop full data-driven products faster than others
Unlock new opportunities and technological breakthroughs together with Neurons Lab.